About the Collection at the TUC Library
The Federation of Worker Writers and Community Publishers (FWWCP) was a network of community-based writing groups that stretched across the UK and, to a much lesser extent, Europe and the USA. Voluntary, community-run groups met to allow working class people to share and discuss their creative writing and facilitate community self-publication.  It was the most significant working class writing/publication project of the 20th century, distributing over a million books between 1976-2007. It thrived during a period of significant social, economic and political change in the United Kingdom, especially through the 1970s and 1980s, and represented a significant counter-cultural movement.
Many of the groups emerged out of local politics and campaigning, some such as Hackney's Centerprise were a model of community cohesion, providing a bookshop, publisher, crèche, cafe and legal advice. Others still exist such as Brighton's QueenSpark Books, the UK's longest running community publisher that started out of a grassroots campaign to establish a nursery school instead of a casino.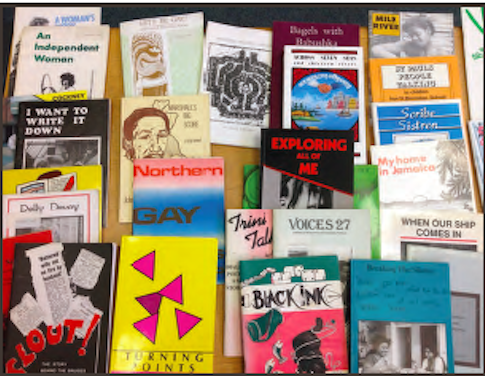 Books from the TUC Library's collection of publications from the Federation of Worker Writers and Community Publishers.
Through the medium of poetry, prose, fiction, biography, autobiography and local history, they document the changing experience of working class people over the course of the second half of the twentieth century, and much like oral history, they contain testimony about cultural history and working lives. They also reveal an emerging identity politics focused on issues of local community, immigration, race/ethnicity, gender, mental health and sexuality, with groups setting up to discuss, publish and represent those identities.
Some of the groups were involved in the establishment of community bookshops, Bookplace, Newham Books, and Tower Hamlets Arts Project (known as THAP and Eastside Books). They were important in providing an outlet for FWWCP publications and frequently provided a meeting space for writers and adult literacy groups.
The TUC Library started its collection of publications from the Federation of Worker Writers and Community Publishers in August 2014 with a major deposit from Nick Pollard, a lecturer at Sheffield Hallam University who had a long-running involvement in the Federation. This has been followed by a number of other smaller deposits over the last 18 months, from former writers, members and enthusiasts. 
From London alone there are at least 11 groups represented, including: Black Ink, Peckham People's History, Stepney Books, Basement Writers, Working Press, Tower Hamlets Arts Project, Hammersmith & Fulham Community, Newham Writers Workshop, London Voices, Age Exchange, Southwark Mind and Survivors. All published biographies, autobiographies, fiction, prose and poetry.
There are also audio recordings of meetings, performances and festivals, and some video footage of these events. The Collection contains publications from over 100 groups that were part of the Federation.
Some of the FWWCP legacy still exists in the form of The FED, a much smaller network that follows many of the FWWCP principles but uses an online presence to keep members in touch. The FED includes writing workshops and groups across the country, mostly centered in London, and like its predecessor, continues to celebrate diversity. It is holding its annual writing festival on the 4th June 2016.
Photo of book collection
Although generally about working class experience, some groups were focused on gender, LGBT, BAME and mental health, and there is much testimony contained in this collection.
The TUC Library is working closely with the University in making the most of the FWWCP Collection, and we've provided inductions for students from social sciences and humanities generally, we've also provided workshops for those from creative writing students to theatre and performance students. Students from Syracuse University taking a Civic Writing course, helped create an index to the collection. The group taught by Jess Pauszek, through Syracuse's London Campus, at Faraday House, spent three weeks in summer 2015 and continued this work in 2016 with Jess Pauszek and Steve Parks.
Having carried out a series of consultative meetings with former members, London Metropolitan University and the TUC Library will be applying for funds to carry out an oral history and digitisation project.